This post was written in collaboration with CGS-CIMB. All views and expressed in this article are the independent opinion of SmartMamat.com based on our research. SmartMamat.com is not liable for any financial losses that may arise from any transactions and readers are encouraged to do their own due diligence.
As a Muslim investor, I've been hoping that there would be a brokerage platform that suits our community's specific needs.
Aside from avoiding interest gains, we also have to steer away from using leverage and investments that are not aligned with our Islamic beliefs, such as those related to alcohol and entertainment, to name a few.
So, when I was introduced to CGS-CIMB iTrade (iCash), a platform that caters to the growing crowd of Muslim retail investors and traders, I knew I had to give it a try and see for myself.
[1] What is CGS-CIMB iTrade (iCash) Trading Account?
iCash Trading Account, or in short iCash, is a trading account that allows you to trade Shariah-compliant stocks with cash up front.
Because you have put your cash up front to trade, you are not able to borrow or leverage from the brokerage platform. Hence, you are trading only with money that you can afford to lose.
(Of course, this is assuming you're not borrowing from other sources outside the platform)
It offers access to a wide range of Shariah-compliant stocks that are listed on five of the world's major exchanges – SGX, HKEX, NASDAQ, AMEX, and NYSE.
CGS-CIMB recognises the growing demand for ethical and sustainable investments, which is why the iCash trading account has been specifically designed to provide investors access to a good mix of ESG-scored securities and Shariah-compliant holdings.
It is also described as an "end-to-end" Shariah-compliant trading brokerage account, a factor that got me intrigued and which I will touch upon later.
[2] CGS-CIMB iCash fees & charges

Of course, one of the first things most investors would like to know is the fees involved.
To be honest, I was pleasantly surprised to see that CIMB-CGS iCash charges lower fees as compared to other traditional brokerages (or banks who offer brokerage services) from players like DBS, UOB and OCBC.
For example, CGS-CIMB iCash has a minimum commission of USD 18 for US Stocks, whereas the other institutions are charging anywhere between USD20-25.
To put this into perspective, one would imagine that running a brokerage service that is Shariah-compliant would add more costs to daily operations, even more than competitors who are not providing that same service.
These costs could range from hiring an external Shariah Advisor to advise on the business and processes, to hiring a Shariah team to review and audit the business so that it aligns with the Shariah law, as well as stock screening for Shariah-compliance and more. As such, this lower commission was a pleasant surprise.
However, the same cannot be said if we were to compare with online brokerages like Moomoo, Tiger Brokers and Saxo – all of whom are slashing their fees, even to the extent of zero fees in certain cases.
So why are traditional brokerages still around in the market, you may ask?
Some users prefer traditional brokerages because it gives them a peace of mind.
When it comes to customer service support, you can always go down to the nearest physical branch to get help in person, and sometimes it is always better to do so, especially when you have a complex issue to deal with.

I'm pretty sure most of us have had frustrating experiences dealing with hotlines that do not seem to answer our queries directly via automated voice messages, as well as waiting for ages to get through and speak to a customer service agent.
On top of that, for traditional brokerages like CGS-CIMB, there will usually be a designated dealer, or team of dealers, assigned to you.
Not only are you given personalised support when you have queries, but you also gain access to value-added services via analysis reports on the companies or securities that you're interested to invest or trade in.
Do take note that there are other costs to consider, which applies not only to CGS-CIMB but also to other brokerages.

[3] CGS-CIMB iCash review – the pros
1. Shariah-Compliant
The platform is positioned as an "end-to-end Shariah-compliant account that offers access to a wide range of Shariah-compliant stocks" and "free from any non-Shariah elements such as interest (riba), ambiguity (gharar), and gambling (maysir)."
So, for obvious reasons, I had to check out the features that support that.
The first thing that caught my attention was the 'Shariah' filter while I was scrolling through the app.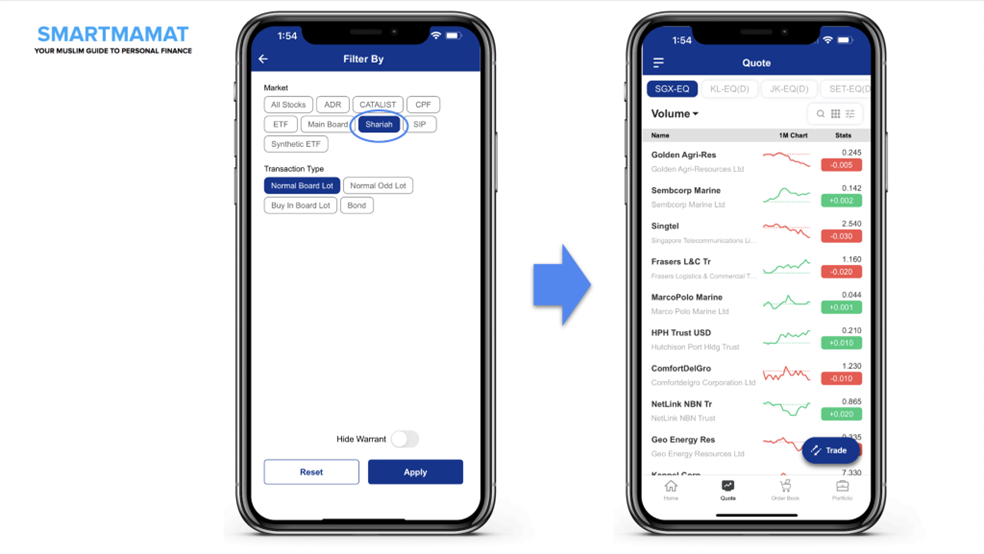 It automatically filters the Shariah-compliant companies that I can have quick access to.
I'm not sure about you, but I'm quite sure this is the first-of-its-kind trading brokerage platform, at least here in Singapore, that offers such a service. And best of all, it is free of charge.
From a simple scroll, I can now quickly tell that companies on the SGX Exchange like ComfortDelgro, Singtel and SBS Transit, and REITS like AIMS APAC Reit and Parkway Life Reit are Shariah-compliant.
On the Web, the Shariah status can be found on the individual stock info/trade tab.
But there is a neat trick too to have a quick glance of all the stocks that are Shariah-compliant.
You can simply use the main quote screen to locate the 'Shariah' column.
It will indicate a particular stock with 'Y' if it is Shariah-compliant and 'N' if it is non-Shariah-compliant.
You can also filter out the non-Shariah compliant ones and see only the Shariah-compliant stocks.
Previously, I had to depend on the FTSE ST Singapore Shariah Index if I wanted to have a free reference.
I went on to try the other exchanges as well, from NASDAQ to Hong Kong Exchange (HKEX) to even Bursa Malaysia, and I was pleasantly surprised that they have the Shariah filter feature too.
This is a game-changer and obviously sets a new standard for other trading brokerages to follow.
How does CGS-CIMB iCash screen the stocks for Shariah-compliance?
They have Refinitiv Eikon, formerly known as Thomson Reuters Financial & Risk, who is screening and providing the Shariah-compliant status stocks.
They have also adopted the AAOIFI Shariah mandate, which is the globally accepted framework, for their Shariah screening methodology.
To deep dive a little more, here are the two key pillars:
(1) Interest-bearing debt over assets < 33%
(2) Cash, cash equivalents and short-term investments over assets < 33%
(3) Cash, cash equivalents and receivables over assets < 50%
Note that for (3), it will be no longer applicable with the AAOIFI latest revision as per Shariah Standard No 59. Once Refinitiv has updated this criteria, we can expect more stocks to be considered Shariah-compliant.
Business Activities Screening
Companies are only considered compliant from a business perspective if the cumulative revenue and non-operating interest income from non-compliant activities does not exceed 5% of their total income.
Non-compliant income sources include:
Adult Entertainment
Alcohol
Cinema and Broadcasting
Conventional Insurance
Conventional Financial Services
Defense
Gambling
Hotels
Music
Operating and Non-operating Interest Income
Pork
Tobacco
The stocks are screened and updated on a half yearly basis, on 1st June and 1st December, which follows the regional practices of Malaysia and Indonesia exchanges.
This is managed by an independent Shariah advisor in Dr Aznan Hasan.
Dr Aznan Hasan is a globally renowned Shariah Scholar who also sits as a Shariah board member on Wahed, and a Non-Executive Director at Maybank.
Other Shariah features include:
It does not allow leverage.
In other words, you are not allowed to borrow money from your broker to trade large positions, more than you can afford.

It does not allow short selling.
In Shariah context, you are not allowed to sell a stock that you do not own. With short selling, you are basically selling a borrowed stock at a higher price and buying it later at a lower price.

There is no interest-earning on your cash balance
No commingling of funds for your iCash account as it is kept in a separate Islamic Bank, as I was informed by a CIMB representative.

It only allows you to purchase Shariah-compliant securities only.
The system will reject Shariah non-compliant buy trade and prompt the message below.
To ease your mind on the platform's Shariah compliance, you may refer to the Islamic Terms & Conditions for iCash client here.
2. Environmental, Social & Governance (ESG) Scoring
The platform provides access to ESG scoring so you can make informed decisions, especially if you're particularly keen in investing in companies that are doing good towards a sustainable future.
3
. Online FX Conversion
You can take advantage of the FX Conversion feature in which you convert your cash balance from SGD to USD / HKD to get Investment power in respective trading currencies. By doing so, you can stretch your dollars even more.
4. Interactive Charting
If you're someone like me who does technical analysis, this feature is greatly useful.
I like the fact that they use the TradingView software as their go-to in-built charting feature, which is one of the most popular and robust charting tools in the market right now.
5. Swift & Safe
It is pretty straightforward to top up or transfer funds to your iCash account.

I find the PayNow QR code payment to be the most convenient, as it took me less than a minute to scan the QR code with the top-up amount reflected in the account.
Thereafter, I can confirm in the app that the deposit has been made under Account Management à Trust Balance
6. Cross Device Functionality
iCash is accessible across both App and Web platforms.
[4] Is CGS-CIMB iCash safe?
CGS-CIMB is currently a joint venture betweenChina Galaxy International Financial Holdings Limited, a wholly-owned subsidiary of China Galaxy Securities Co. Ltd., and CIMB Group Sdn Bhd, in which the latter owns 75%.
More importantly, they are licensed and regulated under the Monetary Authority of Singapore (MAS), hence it has to comply with SFA, or also known as the Securities and Futures Act.
What it means is that CGS-CIMB has to follow a set of rules, one of which is that CGS-CIMB will need to have their customer's assets kept at a separate bank and a custodian broker, and also does not commingle with other investors' assets.
In an unlikely event that they were to really go bankrupt – though there is no such thing as 'too big to fail' especially in light of the whole FTX saga, your assets will still be safe and sound with the bank or the custodian broker.
Another plus point is that CGS-CIMB was recently awarded as the winner of the Best Retail Broker Award in SIAS (Securities Investors Association Singapore) Investor's Choice Award 2022.
The award is meant to recognize excellence in companies and individuals adopting good corporate governance practices, which plays a critical role in supporting investment, specifically for retail investors in Singapore.
Hence, SIAS together with its industry partners, rate on a yearly basis the best performing listed companies in governance and transparency for the benefit of investors.
[5] How to open a CGS-CIMB iCash account
It is relatively straightforward to open an account.
If you're Singaporean, you can register using your SingPass for a much more seamless process which took me about 15 minutes to complete.
All you need to do is to submit your Bank Statement to ensure the bank details provided are matched for withdrawal purposes.

All can be submitted online. Once done, you will have access to your account.
However, you will need another 24 hours for the verification to complete before you are given access to the trading platform.
In summary…
CGS-CIMB iCash stood out for me as being the first Shariah-compliant trading brokerage platform.
I recall seeing some trading platforms claiming to be one in the past, but they were not as robust and fully-fledged as this.
With this new development in the Islamic Finance space here in Singapore, I hope to see more players coming forward to grow the industry further.
Now it is your turn.
Do give it a try and let me know your experience with CGS-CIMB iCash too.
Note: Mobile app screenshots shared in this article are based on CGS-CIMB latest app version which SmartMamat.com was given the privilege to access to. It will made available to public soon.